Let's start the conversation with a simple question: What we like about search engines (like Google)? Well, it understands what we mean and returns exactly what we want.
A Spanish speaker when searching on Google in Spanish gets the list of websites available in Spanish. We, as Internet marketers, know English very well, produce good quality content, and make it reachable so that maximum people can find it. It works! But only for English speakers or for those who want to read English and search in English.
What if, a person doesn't know English and wants to read exactly what you had produced in English in his own language, there is no chance! Otherwise, he will have to compromise with Grammar of Auto Translators after he finds a website/blog.
According to
Internet World Stats
, there are only 43.4 percent (536 million) of users using the English language when browsing the Internet. Meanwhile, the most connected languages are German and Japanese with almost 80 percent of people online. Whereas, all languages make up 351 million users worldwide, and the users (other than English) are continuously rising. You should consider using the different languages thought for SEO and branding that some might be missing (where few companies are really good at), and it is really worth to share with the SEO community!
1) Website/Blog Translation
According to Flash EB Series, "Although 9 in 10 Internet users in the EU said that, when given a choice of languages, they always visited a website in their own language, a slim majority (53 percent) would accept using an English version of a website if it was not available in their own language."
So, 90 percent always visit those websites that are available in their own language. If you are competing in a market where your competitor's websites are available in their own language, you are apparently at a disadvantage.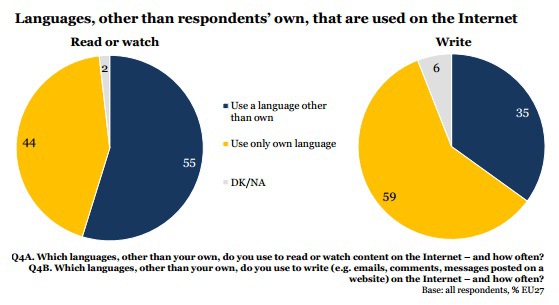 In 23 of the 27 EU Member States, at least half of Internet users used a language other than their mother tongue to read or watch content on the Web; a similar picture emerged when looking at the proportions of those who used a language other than their own when writing on the Internet.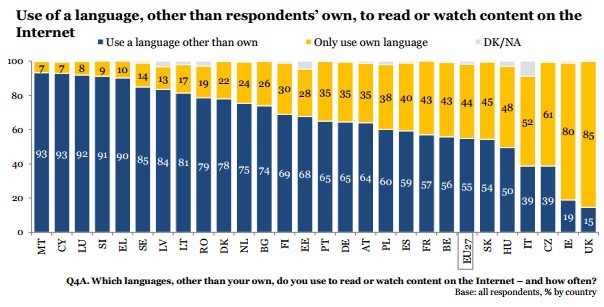 It is good to make your website content for your target markets to become superior and increase conversions. The best move is to go with different country code top-level domain (ccTLDs).
Recommend Reading: Simple guide to deal with multi-regional websites.
2) Social Media
After English, Spanish is the most used language on Facebook, which is around 15 percent in total. A noticeable fact with the stats is English is not the dominant language of Facebook. See below: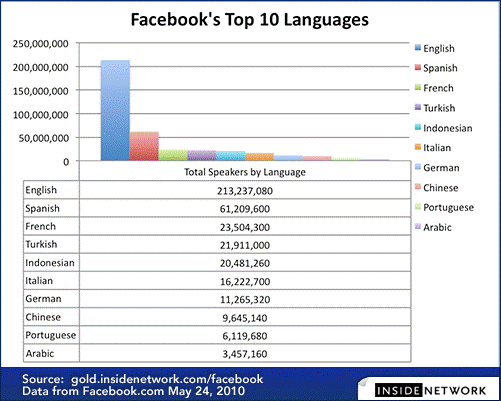 KLM offers its social media services (Facebook, Twitter) in five languages: English, Spanish, German, Dutch, and Japanese. It declares social media as the center of KLM's customer service efforts. Its customer service team is available 24/7, and in addition to solving clients' problems online within an hour, it also claims to be available in more languages after time.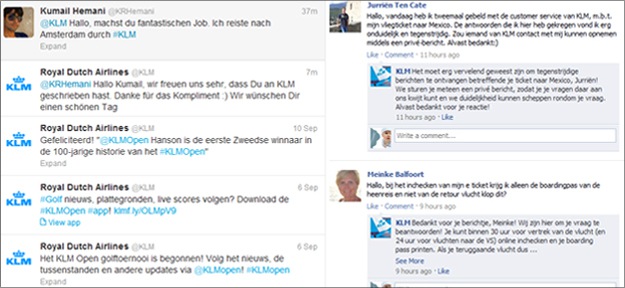 Result: On 31 January 2012, it had one million likes, with over 2 million Fans with all due respect of customer's trust.
3) Link Opportunities
It could be a revolutionary link building tip for you that lasts forever (#maybe). It can work best in different circumstances, i.e. if you already have connections with the .edu or .gov Web authors or contacts with web-owners who are actively producing content for their website/blog. You can offer them free translated pages and ask for a link back.
First, here are some real-time examples of getting quality .edu and .gov links to your website/blog:
a. http://web.media.mit.edu/~mhirsch/bidi
PR: 8 :: DA: 97 :: PA 72 :: Alexa: 1,302
Romanian page: http://www.azoft.com/people/seremina/edu/bidi_screen-rom.html


b. http://www.cs.columbia.edu/~hgs/etc/writing-style.html
PR: 6 :: DA: 95 :: PA: 77 :: Alexa: 3,765
Romanian page: http://www.azoft.com/people/seremina/edu/wta.html



c. http://www.scl.ameslab.gov/~brett/MacMolPlt
PR: 6 :: DA 68 :: PA: 61 :: Alexa: 581, 105
German page: http://www.azoft.com/people/seremina/edu/macmolplt-german.html



They have more interesting stuff to check. Find more links on Open Site Explorer.
If you know multiple languages or know a native speaker, hire them to convert your website into a hub with inspiring piece of content and gain the links that really work!
Tips for Gaining Links
1) Connect with the Authors
Contact the author on Twitter or Google+. Then, make a good relation with them by replying to their tweets, commenting, and sharing their blog posts and by mentioning them on #FF (FollowFriday) to become prominent to them.
Email the author and explain the details of the reasons you would like to translate his content. Notify him when it is ready and let him preview before launching it online.
Here is the sample email that will help you to get their interest:
Hello (Author name),
I'm Your Name from Germany. I'm following you on Twitter and a continuous reader of your informative blurbs. Your inspiring write-ups convinced me to convert them into the German language. I belong to a big community of German speakers who always appreciate new write-ups and desperately want to read the inspiring content (like you compose). These conversions will also expose you in our German community, and they may increase your Twitter followers as well.
I want to write the copy of your content in German and publish them on my website as a separate page with having all the links and images you would be suggesting in the write-up. I'll share the translated piece before publishing it.
I would appreciate if you link the translated page at the end of respective content so that more users would reach to the converted content.
Thanks
– Your Name
2) Sign a Contract with the Web Owners
If you are insterested in translating SEJ or Koozai blog posts or any other blog of your niche, you can sign a contract with them, where every detail is explained and fixed by the owner of the content.
This contract could be based on some conditions, i.e. you must respect not just the sense of the post, but "clone" its design (a.k.a. using the same images, links, videos) and you must link back to the original source etc.
Result: High authoritative long-term links.